2018- A BIG YEAR FOR MIDDLETOWN FOR CLEAN ENERGY:
Founded Middletown for Clean Energy (MCE)
Created Facebook Group: Middletown for Clean Energy (NJ)
Presented 8 talks "Climate Reality and the Path Forward"
Held regional Sierra Club training June 7 and local Middletown training Oct 2
Held monthly MCE meetings, July - Dec
Organized Sept 8 "Rise for Climate" March and Rally in Red Bank
Exhibited at Sept 22 "Middletown Day"
Toured AT&T Labs Clean Energy installation, Aug 23
Hosted Dec 4 Climate Reality Watch Party – "24 Hours of Reality"; and Nov. Paul Hawken's "Drawdown"
Attended public reviews:  Port Monmouth Flood Control; Middletown Microgrid Project; NJ Energy Master Plan
Attended webinars sponsored by NJ BPU: : NJ Offshore wind; NJ Community Solar
Attended state-wide: Mayors' Climate Conference at Rutgers and Sustainable Jersey at The College of NJ; national Citizens' Climate Lobby in DC; regional Climate Reality Central NJ Chapter
Authored 2 articles published in "The Jersey Sierran".  Co-authored monthly letter to appropriate city, state, or federal leaders on current climate-change topics; ~30 letters signed each month at Sierra Club meetings
Held group meetings with Mayor Stephanie Murray; Mayor Kevin Settembrino; and Committeeman Tony Perry
Wrote 2 letters to Middletown Leaders requesting Middletown apply for NJ DEP grants from the VW Settlement fund, for plug-in electric trucks, jitneys, and public EV charging stations
Drafted letter urging steps to 100% clean energy for officials at many levels of government
MIDDLETOWN FOR CLEAN ENERGY BOOTH Sept 22 Middletown Day
-awning, hangings and pinwheels for children provided by Jo and Doug Irwin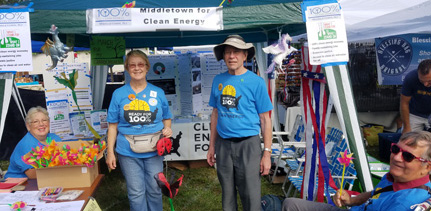 RISE FOR CLIMATE Sept 8. Middletown for Clean Energy organized this March and Rally
10 inspirational speakers, 10 display tables, and 10 plug-in electric vehicles on exhibit, with about 35 volunteers and 200 attendees.
This was one of 260 events across the US and 900+ events around the world, sponsored by 350.org.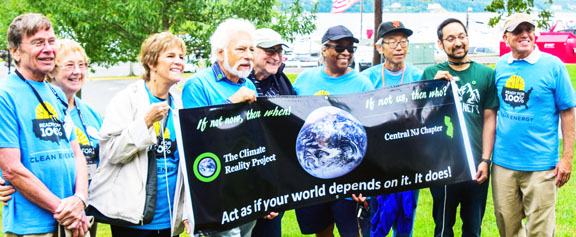 Pat and Steve Miller, patmiller@comcast.net ; stevemiller@comcast.net , Climate Reality Leaders