This Energy Plan is proposed by Middletown for Clean Energy for adoption in the 2020 update of the Middletown Master Plan
All emissions are based upon AVERAGE PER RESIDENT, from the emission categories and totals in the current NJ Energy Master Plan.
ANY NJ city could quickly apply these same averages per resident in their own town.
The Middletown Energy Plan, Page 7, shows Middletown could achieve 148,200 tons/year of GHG reduction by 2030 (21% of 2018 GHG emissions). 
We used nominal estimates for each emission reduction by 2030.
A sustained focus by City, NJ, & Federal would increase residential and business adoption for each category. 
Our GHG reduction goals are 50%  by 2030 and 100% by 2050 (based upon numerous current scientific advisories).
We are currently calculating Middletown's carbon footprint, for a baseline in assessing progress toward goals.
The following ( attached V2-ENERGY-PLAN-PIE.jpg) overlays Gold Star in Energy actions to the pie chart on page 7
"Going for Gold" is a goal of Middletown's current mayor.
The highest impact GHG opportunities are visible at a glance
YEARLY GHG REDUCTION, ACHIEVED BY 2030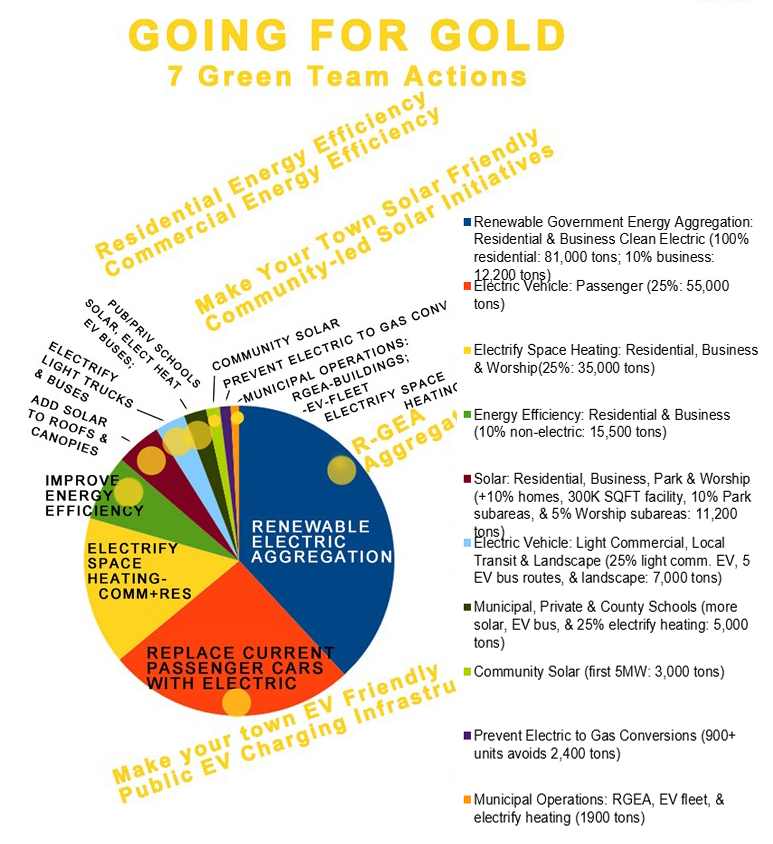 Steve Miller
co-founder, Middletown for Clean Energy 
732-977-4370 (cell)